The Queen's Gambit Surpasses World Championship Impact
Since we began developing chess apps under the Play Magnus brand in 2013, we have garnered nearly 6 million downloads globally. The most exciting times for our apps and the wider chess community have always surrounded the biennial World Chess Championship, due to the surge in chess interest and global media coverage. 
Given the name behind our apps, in the lead up to the World Chess Championships (which in our history have always featured Magnus Carlsen) we have seen new downloads for our apps grow ~2x. This phenomenon has always been a significant driver of the seasonality in our apps business and a key consideration for our product plans, budgets and forecasts. 
Despite this year's postponement of the World Chess Championship, chess interest has experienced an even larger increase, driven by the new Netflix limited series, The Queen's Gambit.

On iOS, our Magnus Trainer app for learning chess in a fun, gamified way with Magnus Carlsen, saw 93% M/M growth in app units from the World Chess Championship 2018. This year, The Queen's Gambit led to 292% growth M/M in app units, 3x the impact of the 2018 World Chess Championship. The same effect can be seen in search interest for chess according to Google Trends over the last 5 years. The World Chess Championships in 2016 and 2018 created similar peaks in interest, however The Queen's Gambit has far surpassed this already.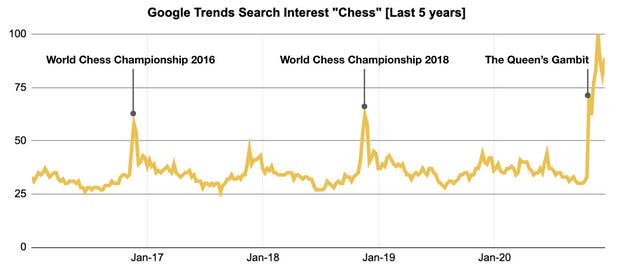 The Queen's Gambit and its impact on global chess interest is encouraging for us at Play Magnus Group as it clearly shows what we've always believed, that there is significant potential for chess to appeal to the mass market. 
At Play Magnus Group, it is our's and our ambassador, Magnus Carlsen's, mission to grow chess to make the world a smarter place, and we are thrilled with the spectacular growth in the overall market.

Throughout our history we've always focused on crafting unique digital experiences for new players and existing fans of the game while staying true to the chess experience.
We have grand plans for adding more depth into the overall offerings of our apps, taking retention and engagement best practices from video games and online education into the chess world and in the process, crafting a new experience.
We are truly excited about chess becoming more accessible as we introduce new users and welcome back former players into this world. The best part is, we are just getting started as we continue to launch fun, high-quality features for our fans.
If there was truly a climactic ending to the Queen's Gambit, it would most surely be this one game: